notes. sketches. ideas. diaries. news.

A place to drop notes, sketches, ideas, diaries and news.
2023


February
February 6, 2023
The world is just amazing sometimes. Cruising through 2013 with clips from Minute Movies (03.19.13) on an Amtrak train in Illinois/Wisconsin & (02.06.13) in a bathroom somewhere in Portland. #filmdiary #videodiary #flipcamera
2022


July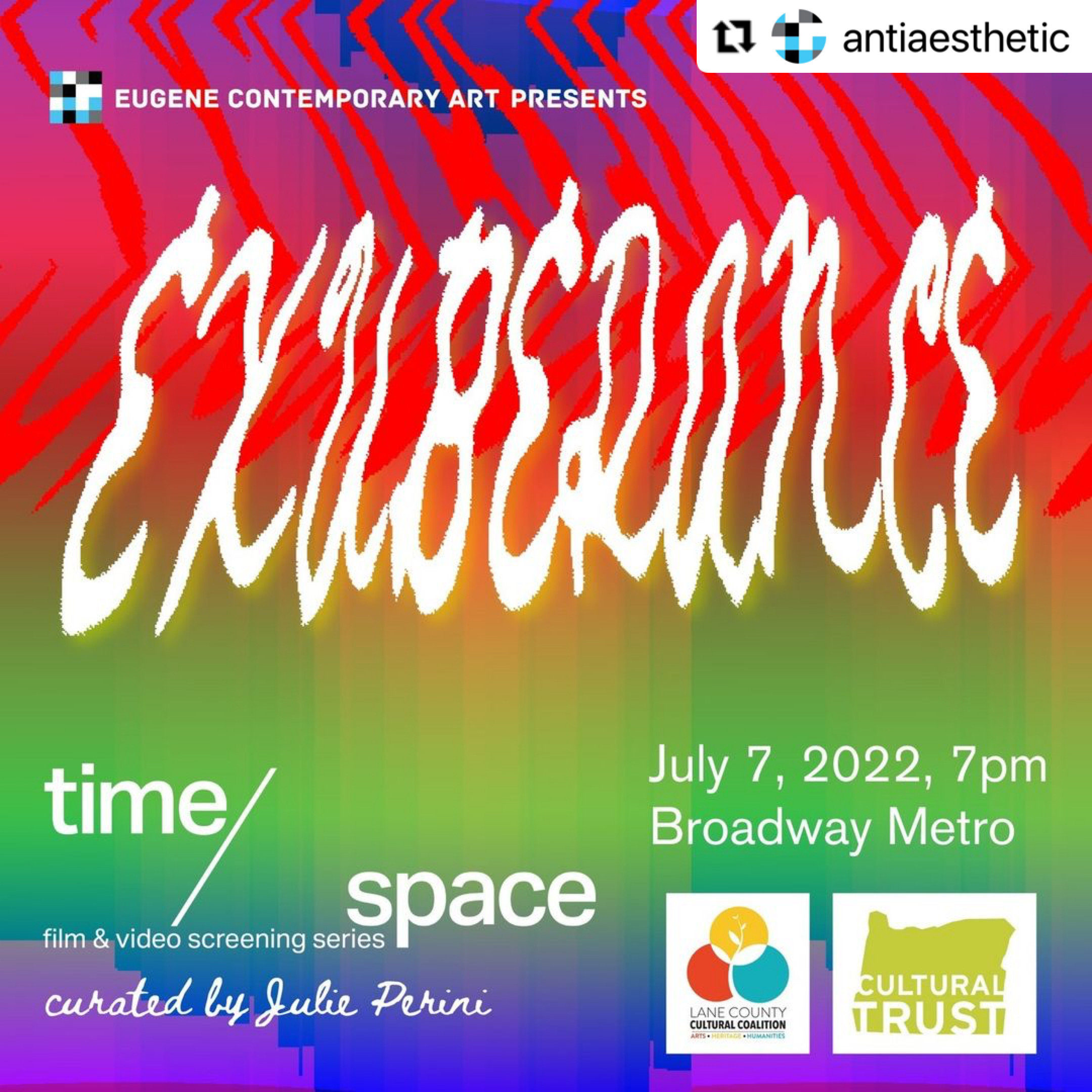 July 5, 2022
Earlier this year, I received an email from the friendly folks at
Eugene Contemporary Art
, inviting me to curate a film series. The task involved selecting from a pool of films/video by regional artists that they'd gathered from a open call for work. The project is like an extended film festival, with an initial screening of my own work to introduce myself to the community and three subsequent screenings over the next several months. I had the great pleasure of watching about nine hours of artist's film & video to create programs that show some connections I saw among the works. Plus, we get to rent a few films by filmmakers from other times and places, putting those films in dialogue with these new pieces from the Pacific Northwest. It's a great project and I am so grateful ECA brought me aboard!
・・・
Screening #2: Exuberance: Sound, Color, Light & Movement
Thursday, July 7, 2022 at 7pm
Broadway Metro in Eugene, Oregon
Summer is here! The sun is high in the sky and seems in no rush to dip to the other side of the horizon. In that radiant spirit, each of the twelve films and videos in the
Exuberance
program brims with its own unique energy. Some are dizzying, others meditative. Some are unabashedly joyful while others explore complexities of grief. All of the artists handle the tools and materials of sound, color, light, and movement to create powerful sensory offerings. All films are by Pacific Northwest artists except the films by early experimental filmmakers Maya Deren (in collaboration with Talley Beatty) who lived in New York and Los Angeles, and Marie Menken from New York. Includes work by: Mary Evans, Victor Martin, Rana San, Isa Ramos, Miles Sprietsma, Roland Dahwen & Takahiro Yamamoto, Onry, David Koteen, gloria joy kazuko muhammad and mu knowles, and Randall Taylor. The screening will begin with pre-recorded introductory remarks by curator Julie Perini.
・・・
Screening #1: It's About Time: Films & Videos by Julie Perini
Friday, April 8, 2022 at 7pm
Eugene Contemporary Art in Eugene, Oregon
Julie Perini has been creating videos since her teenage years when she first picked up a giant camcorder in her parents' suburban home in Poughkeepsie, New York. Since then, video cameras have been her constant companion, her playful friend, her way of understanding the world and her place in it. Her work is informed by a range of theories, art forms, and experiences, from liberation movements to rock & roll to trauma therapy and more. She engages a range of nonfiction and experimental forms in the creation of her work, always with a focus on time: What is time? How can we bend it, shape it, transform it, collapse and expand it? And more than anything, how can we be more fully present in it?
⁠
This program is supported by the Oregon Cultural Trust.⁠
2022


March
March 28, 2022
🌅 Good morning from Playa at Summer Lake! Huge thanks to everyone here for providing me with a week to time travel. I spent each day looking at my daily videos from 2016 & 2017. They felt like little notes, triggering memories, sensations, and feelings from what were the most momentous couple of years in my life so far. I literally got to watch the movie of my life unfold, knowing how it turns out. I watched Julie struggle through one last year living in a sad house and painful relationship. I cheered her on, knowing she'd break free soon. The videos post breakup are filled with music, dancing, and many grief moments too. But the exhilaration is palpable. I feel it as I type this. Anyway, here at Playa, I'd emerge late in the day from my cabin, a little stunned that it was 2022. The birds with their antics would pull me into the present. The landscape stretching out for miles reminded me that there is more to come. I'm still marching (dancing? skipping?) forward with this project, 2018 and beyond awaits.
📍 this is Klamath land
2022


Feb
February 21, 2022
From the Minute Movie archives: I cataloged September through December of 2015 today and came across this soothing gem from my friend Laura's ice skating birthday party back on October 24, 2015. This is from an upper level, near the food court of the mall, looking down on skaters.